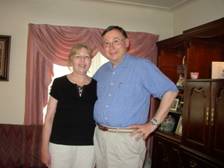 We just wanted to take this opportunity to send you our most sincere thanks for all your hard work and professionalism as our real estate broker when we were selling our home. You demonstrated a complete knowledge of the neighborhood and were constantly aware of the up-to-date changes in the market. You also quickly understood the special things about our house that would make it appealing to potential buyers, and conveyed all those things to everyone who came to look at the house.

The marketing materials you created, including the website, pictures, virtual tour and flyers, and the very effective advertisements you placed enabled us to not only sell our house in much less time than we expected, but also to obtain a most satisfactory selling price. It was truly amazing how many potential buyers you were able to have come look at the house, and then to have multiple offers to choose from certainly exceeded our expectations.

We felt a complete sense of trust in dealing with you, and perhaps the best endorsement you could receive was the total respect from your peers, who all told us that you were one of the best, most experienced, and most professional brokers that they had ever worked with. Please feel free to use our most enthusiastic endorsement of your abilities; we're certain that everyone who uses your services will be as delighted as we are!

— JoAnn and Thomas Rumore, Bayside, New York